CEPT Summer Exhibition 2019
CEPT Summer Exhibition 2019
The Bald Eagle of SA has landed.
Tremors after the falling of proverbial big tree seem to have subsided, and a new way of doing things is emerging, of course with contingent pains of labor.
The Semester End Exhibition is both a good and a bad idea. On the painful side – Students and Faculties have extra work load and are toiling to put up the show long after the semester is supposedly finished. Working hard on weekends, with 30% marks at stake when they are not even present to explain their work. Laying bare their work for criticism, judgement (typical to architects at least), scorn, and misinterpretations. Both the teachers and students are reeling under this extra pressure (Sheets, Report, Poster AND Panels) all along getting advice about how they should have prepared for this during the semester itself. It is a pain.
But for outsiders, it is all good stuff. People coming and pointing at drawings, models, studies, and saying: 'we should do it like this ourselves'. SID designers placing their business cards where their work is on display, giving people an opportunity to hire them. Offices coming and figuring out whether the courses are of their liking, finding potential fields of interest. Also judging where they themselves stand, or noting down names of bright students. Future students coming and drinking on the elixir of a semester's work, proud parents posing in front of their ward's work.
So the exhibition is catalyzing, both within and outside the campus, interaction and learning that a University with varied courses is supposed to provide. What good is having these many interrelated specializations in the same small campus when students don't learn from what the others have done? It is also preparing the students for the life that is waiting for them outside. Many will thank the institution for teaching them the art of succinctly presenting their work, in a way that it speaks for them even in their absence.
A few observations
The realm of design is moving from making to interpreting. In CEPT it was always important to see the wider scope, larger picture, other aspects, of making a building/ object/ even area. It was always the Concept that brought upon a student the best kind of attention. So site and case studies always formed a significant part of the process, and judging by how frivolously some of the design schools treat this aspect of design, CEPT was always strong on study, analysis and ideas rather than on a direct, measurable result in form of drawings, models and presentations. But from small scale to big, even as it is refreshing to see sincere attempts to 'root' and construct, the students all seem to be exploring 'why' much more than 'how'.
Even as there are some really engaging studies, so many of the works have mere formal excellence, and there is not enough thought going into sustainability (Yes it is a cliched word) or materials and techniques appropriate for the needs of this poor nation. It is as if this lot is going to be absorbed by large corporations/ wealthy clients in big cities. May be this is a sign of a young and enthusiastic pool of teachers unmarred by the real world. Also of not having the maturity (read cynicism) and practicality that teachers experienced in 'making' bring on board. Ideas, but devoid of solid foundation that was the leitmotif of CEPT earlier. Especially in case of Post-graduate studies. This could be the result of restructuring that has taken place in recent years. Changes in those who teach, and the directives about what and how the teaching should happen.
Aware that this is a grievance of a privileged teacher and most schools are years away from achieving even this much. These are the typical trappings of an elitist institution, giving the insiders a false sense of security along with an air of superiority. This is where the step needs watching.
All in all, the exhibition transforms the campus into a vibrant display of capabilities as well as aspirations of its habit-ants. I say keep up the good work CEPT!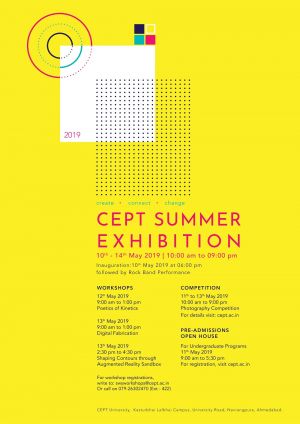 P.S.
I only wish the new buildings and the walkways were not so insensitively put up, killing the original spirit of the place. About that mess, another time.